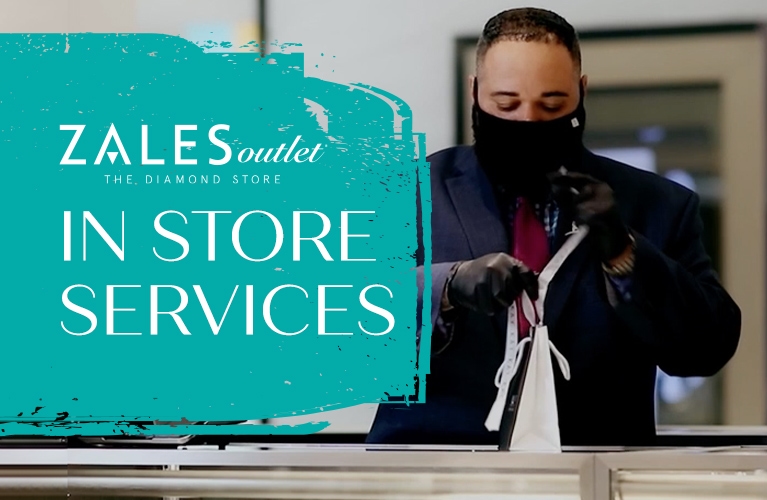 During its lifetime, almost all jewelry will need some sort of service. Zales offers a variety of services and programs designed to protect your jewelry investment. These include our Lifetime Diamond Commitment, available on any purchase of covered diamond jewelry, and our in-store services. These services may not be available at all stores and prices and service time may vary. Check your local Zales store for details.
Zales Lifetime Diamond Commitment
Since Zales is The Diamond Store, our commitment to our guests is second to none. Zales wants to ensure that you'll enjoy the full beauty and brilliance of your diamond for a lifetime. With your diamond purchase of $200 or more, Zales presents its Lifetime Diamond Commitment.
Your Lifetime Diamond Commitment includes:
Diamond Breakage Coverage
If your diamond becomes chipped or broken or is lost from its original setting during normal use, return the jewelry to any Zales, Gordon's or Zales Outlet store. We will replace the diamond* with one of similar value and quality at no charge to you. In the event that the diamond cannot be replaced because of the uniqueness of the stone, setting or the damage that has been incurred to the mount or prongs, the sole remedy may be for us to replace the entire item with similar merchandise at no charge to you.
*Lab-created diamonds will be replaced with lab-created diamonds.
Lifetime Cleaning and Inspection
You may have your Zales diamond cleaned and inspected as often as you want, free of charge, for as long as you own it. To maintain your Lifetime Diamond Commitment limited warranty, you need only bring your diamond to Zales every six months for cleaning and inspection, along with your record-keeping card.
For example, if you buy your diamond in January, bring it in every July and January. If you bought it in February, bring it in every August and February, etc. When you bring your diamond to Zales for your semiannual inspections, a Zales Jewelry Consultant will verify the inspections on your record-keeping card.
Lifetime Guaranteed Trade-In Value on Bridal Sets and Diamond Solitaires
Zales will gladly accept your Zales diamond (excluding lab-created diamonds) bridal set, solitaire ring, solitaire earrings, necklace or solitaire pendants with a valid Zales receipt toward your next diamond jewelry purchase (excluding lab-created diamonds), provided the net purchase price of the new item is at least twice the price you paid for your original diamond purchase. Colored gemstone and lab-created diamond jewelry are not eligible for trade-in. We guarantee that the item you trade will be valued for trade in at Zales at 100% of its original net purchase price. Trade-ins of in-store and online purchases are accepted at most Zales locations.
Items Covered and Warranty Conditions
Zales Lifetime Diamond Commitment limited warranty applies to all diamond rings, diamond earrings, diamond bracelets and diamond necklaces. This Lifetime Diamond Commitment does not cover previously owned jewelry, nor does it cover theft, mysterious disappearance, loss or damage other than that incurred in normal wear, and only diamonds in their original settings that have been inspected and repaired by Zales are covered by this limited warranty. Proof of purchase is required on items being returned or exchanged and on trade-ins. Net purchase price refers to final price actually paid, excluding tax. This limited warranty does not cover colored gemstone jewelry or watches. Repair charges necessary to properly secure a diamond in its mounting can be covered under Zales' optional Lifetime Jewelry Protection Plan.
Repair charges necessary to properly secure a diamond in its mounting can be covered under Zales' optional extended service program. Email us or talk to a Jewelry Consultant from your local Zales store for details.
Optional Extended Service Agreements
Upgrade your jewelry protection by purchasing extended service plan. Learn more about our Extended Service Agreements.
Other Services
Return and Exchange Policy
Zales.com is dedicated to delighting you with your jewelry purchase and our services. If for any reason you are dissatisfied with your purchase, you may return your item based on our Return and Exchange Policy. Returns and exchanges are permitted within 60 days from the purchase date for jewelry, and within 30 days from the purchase date for watches. See full Return Policy for details.
Cleaning and Repairs
Zales offers FREE jewelry cleaning and inspection any time. Zales stores also offer repair services for most jewelry styles, regardless of where you purchased your item. Learn more about Zales Repair Services.
Special In-Store Events
From time to time, special in-store events are held. These might include remount or restyle events, diamond trade-up events or even special celebrity guest appearances. To receive notifications for in-store events and more, subscribe to receive our emails today.
In Store Ordering
Zales.com carries an expanded assortment of jewelry, watches and other items that are not available in our retail store locations or are available exclusively online. Our Jewelry Consultants are happy to assist you if you have any questions or need help making an online purchase. Your in-store online purchase can be shipped directly to your home or shipped for FREE to your local retail store location.
Get it Fast! Buy Online, Pick Up In Store
Select jewelry styles are now available for purchase online, pick up in stores. To see if an item is in stock and available for this service, click the Get It Fast button on the product page and enter your zip code. If the item is available at a store near you, you can purchase the item online and it will be available for pick up at the indicated store within 24 hours.

As always, ANY item may be purchased online and shipped for FREE to your local store for pickup.